In this article, I give you my quick review of the Marshall Kilburn 2 portable Bluetooth speaker with included specs.
Marshall amplifiers are for decades one of the most recognizable symbols of rock music and something that adorns the concert stages of the world's most famous musicians.
Well-known Marshall brand style
Company Marshall has decided to offer the distinctive sound and legendary design of its amplifiers in the form of a portable Bluetooth speaker – by the name of Kilburn II.
The multi-directional sound of this speaker will simply get you into the music, whether you listen to it indoors or out. In other words, Marshall Kilburn 2 directs sound in multiple directions, reproducing deep bass and crystal clear treble, which makes the overall sound image uncharacteristically wide and rich in the arrangement of these dimensions.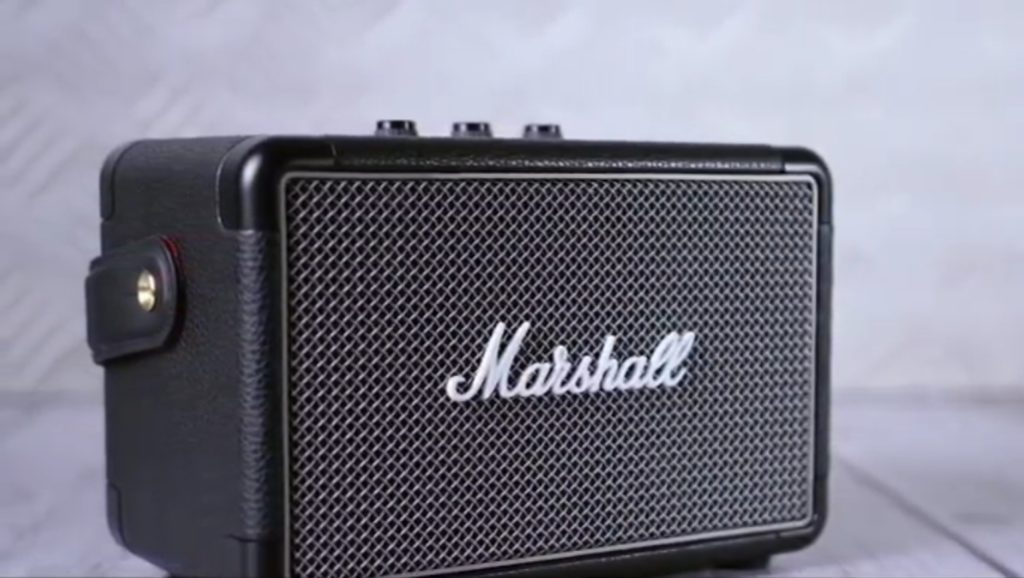 Battery and charging
Although Marshall Kilburn 2 weighs only 2.5 kg and falls into the category of compact speakers, it houses a very powerful battery that, when fully charged, provides more than 20 hours of music enjoyment.
In addition to high capacity, there is also fast battery charging technology, so just 20 minutes of charging will be enough for 3 hours of music listening.
In addition to impressing you with the quality and volume, Marshall Kilburn 2 Bluetooth speaker will give your living or workspace an added charm, thanks to its legendary and authentic look.
Design and features
The distinctive mesh and the Marshall logo on the front, the tolex skin, and unique potentiometers make the Kilburn speaker irresistibly reminiscent of a true Marshall guitar amplifier.
The high-quality workmanship and reinforcement on the corners will make this fantastic device long-lasting.
And there's the IPX2 certification that guarantees splash resistance with less water.
Thanks to its compact dimensions and the grip associated with the guitar strap, you can easily carry Marshall Kilburn II anywhere and enjoy the high-quality 36W sound provided by a fully digital amplifier.
The potentiometers on the upper side allow you to easily control the volume as well as adjust the treble and bass intensity to your taste.
Connectivity
The Kilburn 2 speaker uses Bluetooth 5.0 wireless connectivity, which, in combination with the aptX audio codec, delivers higher sound quality when playing music from your mobile devices, up to 10 meters away.
Up to two audio sources can be connected to the speaker at the same time via Bluetooth, and there is a traditional 3.5mm audio jack to which you can connect an MP3 player, a CD player, an FM receiver, and the like.
Marshall Kilburn 2 on the Market
The Marshall Kilburn 2 Bluetooth portable speaker is on the market in many retail places. The one that I refer to in this article I link to here:
Feel free to share this post.