If you've ever wondered what the best mouse looks like, the answer is in front of you – Logitech MX Master 3. In this article, I give you my review of this device.
Design
This beautifully shaped mouse is made to provide maximum comfort in work, while very easily adapts to the shape of your hand, thanks to its ergonomic shape.
The most important effect of the unusual design is that your hand will not get tired even after several hours of work.
Therefore, it will simply be adored by developers, designers, creatives, and all those who spend a lot of time in addition to computers, working, and researching Web content.
Mouse wheel
Apart from the perfectly customized design that simply blends in with the shape of your sake, one of the main features of this mouse is the advanced wheel made of machine steel.
Under the finger, it acts as a tool for precise work, thanks to the electromagnetic scroll.
With it, you will check 1000 lines of program code or rows in large Excel spreadsheets in a second.
There's also a free spin mode for virtually endless vertical scrolling, which is perfect for viewing documents with a large number of pages or searching for content on social networks.
On the side, there is an additional wheel for horizontal scrolling with identical properties of the main wheel.
Connection
The Logitech MX Master 3 connects to your computer wirelessly, using a Bluetooth connection.
It has a rechargeable battery that can be charged via the USB-C port and provides 70 days of working autonomy on a single charge.
Furthermore, in addition to the computer, you can also use it on a tablet device or mobile phone.
Logitech software
Logitech software gives you additional control and adjustment details, ie. key mapping and assigning certain functions to keys.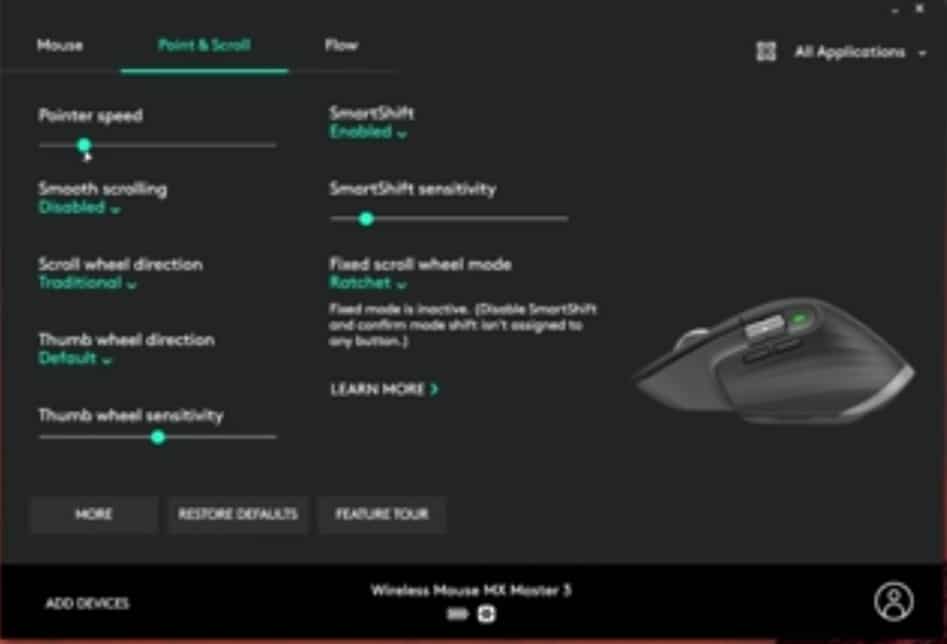 The Logitech MX Master 3 is, in a word, the perfect mouse that will win you over in a short time with its shape and easy operation.
You will create an unmistakable feeling that work has become easier and faster.
You will be far more productive in your work, with immense pleasure in using this unusual mass.
Like all Logitech products from the MX series, it is a bit more expensive, but if you are an advanced user of Microsoft Office and Adobe Creative applications, this mouse justifies the investment.
Mircic91.com is an affiliate. As an Amazon Associate I earn from qualifying purchases.