In this article, I give you my quick review of the Gigabyte AORUS RTX 2080 SUPER graphic card.
Ray Tracing technology
Ray Tracing is definitely a technology that has made significant advances in the presentation of graphic details, as well as an overall better feeling when playing next-generation computer video games.
To get the effect of near-photorealistic graphics in real-time gaming, you'll need powerful graphics hardware, such as that found in the latest generation of Nvidia GeForce Graphics Cards, based on the Nvidia Turing architecture.
Ray Traced games
The popularity of the advancement in the rendering of light effects is indicated by the fact that more and more software studies for game development are making a lot of efforts towards the increasing use of Ray Tracing effects, giving them an advantage over conventional rasterization technology.
A whole generation of games with new and improved graphics environments utilize advanced Ray Tracing effects techniques, with some of the popular titles being Call of Duty, Cyberpunk, Doom, Watch Dog, Wolfenstein, and others.
Tensor cores
But to really enjoy the multiple Ray Tracing effects, which has not been possible so far, the huge hardware power of the GPU is required.
Geforce RTX is the only platform (at the time of writing this post) equipped with dedicated Ray Tracing hardware and is capable of supporting a new kind of effect in next-generation games with tensor cores.
This powerful Nvidia processing hardware is not intended solely for gaming and entertainment, but also for improving performance when working in classic applications, such as 3D rendering and video rendering applications, which is certainly a reason to justify investing in such hardware.
Powerful graphic card
If you want one of the fastest GeForce RTX graphics cards today, which includes the full implementation of the Turing architecture, then the Gigabyte AORUS Geforce RTX 2080 SUPER 8G is the right choice for you. It is one of the best graphics cards in the premium class.
Plenty of power allows you to enjoy games in a rich graphics environment, as well as advanced features that new games have at their disposal. Practically, only the RTX 2080 Ti chip is faster than the Nvidia RTX 2080 SUPER graphics chip.
Full HD Ray Tracing
The 8GB of local video memory allows you to not only be limited to Full HD resolution with demanding graphics settings, but you can even make trips at 1440p, even 4K resolution if desired.
Expressed as concrete numbers, this 1080p resolution graphics card with Ultra settings and Ray Tracing and DLSS technologies delivers an average of 80 to 90 frames per second in most games.
In classic mode and at the maximum set level of detail, framerates average more than 100 frames per second, making this graphics card an ideal pair for gaming monitors with a 144Hz vertical refresh rate.
Windforce Coolers
This model uses a specially designed Windforce Stack 3 cooling system that, along with a stronger 14 phase power unit, allows the card to operate above the reference Nvidia specifications while providing an additional level of gaming acceleration.
So you shouldn't be surprised at the fact that in real conditions the GPU runs at almost 2 GHz, delivering unmatched gaming performance.
RGB Fusion 2
Considering that the AORUS GeForce RTX 2080 SUPER is a purebred gaming card, Gigabyte has implemented the RGB Fusion 2 light effects, but in a completely different form to the previous models, giving it an almost unrealistically beautiful work appearance.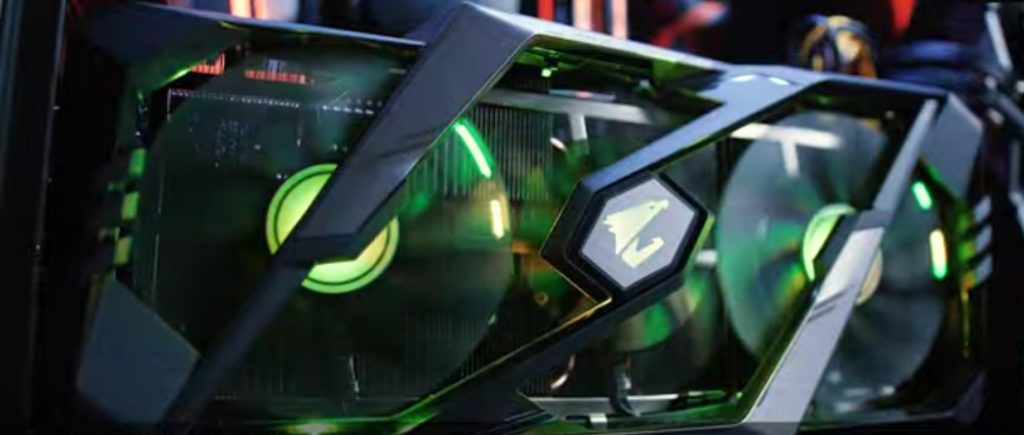 The special roller shutter and LED mode on the fan's propellers create attractive effects that will satisfy even the most discerning ones.
Connector outputs
That it is an exceptional graphics card is also confirmed by detail with a section of available connections for connecting the monitor.
The most commonly used port configuration, consisting of three DisplayPorts, one HDMI, and one USB-C connector, has been added by Gigabyte by adding two more HDMI ports to the AORUS GeForce RTX 2080 SUPER graphics card.
Summary
Because of all this, it's not hard to conclude that this is one of the best high-end graphics cards in the world.
In addition to its exceptionally high performance, the AORUS GeForce RTX 2080 SUPER will effortlessly deliver the enviable level of power required to perform serious tasks that require a powerful graphics subsystem.
AORUS RTX 2080 SUPER on the Market
The Gigabyte AORUS Nvidia GeForce RTX 2080 SUPER is on the market in many retail places. The one that I refer to in this article I link to here: https://amzn.to/35wkaJw
Feel free to share this post.