In the previous text, I explained to you what partitions on a hard disk are. In this article, I will explain how to create a partition on the hard disk.
After you have successfully installed Windows 10 on your computer, your next step should be to create hard disk partitions so that you can make better use of your space.
The best way to create partitions in Windows 10 is to use the built-in disk management system – Disk Management or using the command line tool 'DISKPART'.
Here are the steps:
Log on to your Windows 10 computer with an administrator account. (The partition creation process requires administrative privileges on the computer.)
When you log in, click the File Explorer icon from the taskbar.
In the left window (navigation window) of the open File Explorer window, right-click This PC.
From the context menu, select Manage.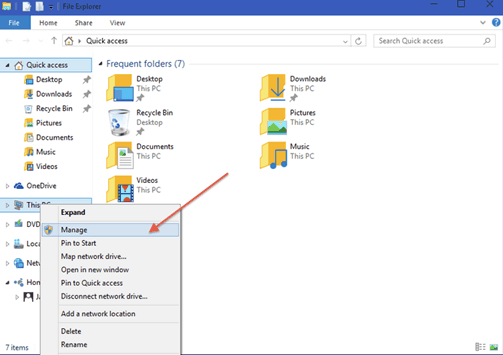 In the Computer Management window that opens, in the left corner, click Disk Management from the Storage category.
In the right pane, right-click the unallocated area of ​​the hard disk where you want to create the partitions.
Note: If you allocated all hard disk space at the time of the Windows 10 installation, there will be no unallocated hard disk space. If this happens, and you still want to create a new partition, you must right-click the C: drive, select the Shrink Volume option and follow the on-screen instructions to free up some space and get an unallocated area.
From the context menu, select Create Simple Volume.
On the welcome page under the New Simple Volume Wizard, click Next.
On the Specify Volume Size page, in the available Simple volume size in MB field, specify the amount of space you want to allocate to this new partition. (Be sure to specify space in megabytes, ie 10240 MB for 10 GB. 1 GB = 1024 MB.)
Click Next to continue.
On the Assign Drive Letter or Path page, leave everything as it is for simplicity, and click Next. (If you are an advanced user, you can select the drive letter of your choice from the available list and assign the next drive letter – Assign the following drive letter.)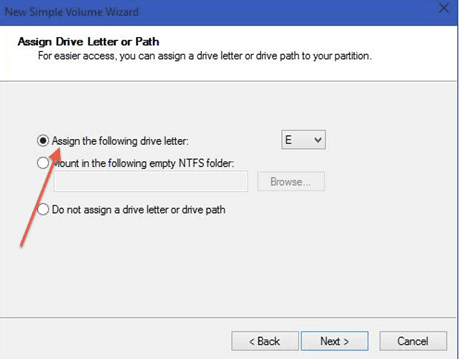 On the Format Partition page, select your preferred settings. (If you're not sure what to choose, leave the default settings intact.)
Click Next to continue.
On the Completing New Simple Volume Wizard page, click Finish to create a new hard disk partition.
You have just created a new hard disk partition that is now ready for use.