Blackberry Curve 9320 is a new model in our offer. Just a few days ago, we wrote about the Blackberry Curve 9220, and now the Blackberry Curve 9320 is here. Like the slightly cheaper model, the Blackberry Curve 9320 comes with a distinctive Blackberry look and Blackberry features. In short, the Blackberry Curve 9320 is a smartphone with basic functions, a good battery, and a built-in Blackberry Messenger.
The Blackberry Curve 9320 is a phone that will have to look for its place under the sun in competition with cheap Android models, such as the Huawei Ascend G300, LG Optimus L3, or Nokia Asha 201.
The heart of this and other BlackBerry models lies in its QWERTY keyboard, which we can say is precise in its response. It with a 2.44-inch screen, in fact, makes this phone. The screen itself is by no means spectacular.
The picture is clear, but it is a bit worse when it comes to surfing, but this problem is not noticed when certain applications are used. The BlackBerry Curve 9320, unlike some other models of this house, has an audio input at the top, while the BBM button is on the left side of the center button.
The BlackBerry Curve 9320 looks a bit chunky, but by no means can it be said to weigh (only 103 grams). The dimensions are not huge either, because the BlackBerry Curve 9320 measures 109 x 60 x 13.9 mm.
Simply put, the BlackBerry Curve 9320 is not made to look beautiful and technologically modern, but primarily to approach the price in terms of models that are really business and modern, so fancy.
As with the Blackberry Curve 9220, the BlackBerry Curve 9320 runs on the BlackBerry 7.1 operating system, which allows the BBM to "integrate" with certain applications, such as Facebook. It's not exactly an adequate replacement for the long-announced BlackBerry 10, but it's still a step forward.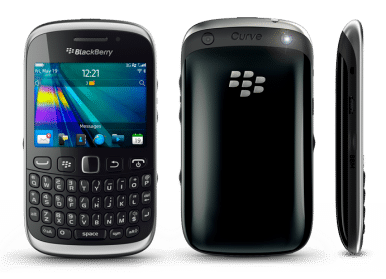 The BlackBerry Curve 9320 has a 3.2 MP camera which is about average but solid anyway. Inside the phone, there is a battery with a capacity of 1,450 mAh, as well as a microSD slot, with the help of which the phone's memory can be "adjusted" to the standard 32 GB.
As the BlackBerry Curve 9320 also has an FM radio, and with the mentioned amount of memory, it is clear that audio entertainment will not be lacking. In addition, the BlackBerry Curve 9320 also supports 3G, so you can easily listen to some internet radio if local is not enough.
Speaking of connectivity, the BlackBerry Curve 9320 has all the existing connections (unlike the cheaper BlackBerry Curve 9220), so GPRS, EDGE, 3G, Wi-Fi, Bluetooth, USB, and GPS are available to the user.
It is clear that the great RIM has long been unable to produce smartphones that will be able to compete with desirable Apple devices or with a young power, better known as Android. It is something that always, as a label, sticks to the RIM and BlackBerry brands. What BlackBerry has been using as a tactic lately, however, is a rapid drop in prices, as an attempt to compete with big rivals.
The BlackBerry Curve 9320 is an average phone, but we are sure it will find plenty of its future owners. The reason is that BlackBerry still enjoys great popularity among people of different ages (sometimes it is enough to just look at which phones people around you have and you will see that some BlackBerry always appear there). Conclusion: The BlackBerry Curve 9320 is a simple, affordable phone that carries the old, good spirit of the BlackBerry