Nokia has added a new member to its family called the Nokia Lumia 620 and we see it as a very important product for this company. The Lumia 620 is not a high-end phone, but a mid-range model, a type of phone that has long been Nokia's main source of inflow, and a type of phone that is produced in large numbers and that ultimately associates people with this company. Lumia 620 is a smartphone that uses a Micro SIM card, which works with Windows 8 operating system, interesting design, vibrant colors… If you are interested in this model and see how we experienced it, continue reading because the Nokia Lumia 620 review follows.
Design
As we have had the opportunity to notice, lately Nokia has been basing its products on as wide a range of vivid and colorful colors as possible, and so it is with this model. The case of this model is made of plastic and we liked the feel-impression of the rubberized phone that the Lumia 620 gives off. You will hardly mix this model with a high-end device, but in your hands, it does not seem cheap or of poor quality. The dimensions of this model are 115.4 x 61.1 x 11 mm, and although this model looks a bit chubby it is extremely compact and weighs an understandable 127 grams. All physical keys are located on the right side of the device and this constitution has proven to be extremely convenient because this model does not require any "exhibitions" to handle with one hand.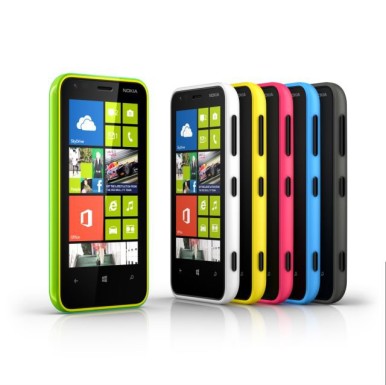 Display
A review of the Nokia Lumia 620 takes us to the display of this model. The Lumia 620 is equipped with an economical 3.8-inch ClearBlack LCD display with a resolution of 480 × 800 pixels. This display can't measure up to the 4.7-inch displays of high-end models, but the smaller display offers the ability to handle a one-handed phone, a luxury that high-end models can't afford. The pixel density on this display is 226ppi, which popularly means that you will not see the rough edges of the displayed objects on the display of this model, ie the image is quite sharp. But with this model, you will not only enjoy the sharpness, but ClearBlack technology also provides deep black color, good color saturation, with high viewing angles.
Processor, memory and interface
The Nokia Lumia 620 delivers pretty good performance when it comes to the processor, and especially when you know the price of this model. It is equipped with a dual-core Snapdragon S4 Plus processor of 1GHz, Adreno 305 graphics, and a solid 512MB of RAM. The internal memory of this model is 8GB, and its memory can be expanded with a memory card up to a maximum of 64 GB, which is definitely a handy option! Using this model is a pleasant experience, and at no time did we get the impression that the Lumia 620 was slowing down, getting stuck, or that it could not cope with the given tasks. The Nokia Lumia 620 review also included a user interface review. This model (although mid-range) works with the latest Windows Phone 8 operating system. This is good news because Windows Phone 8 is a well-polished operating system.
Connections
When it comes to connections, the Nokia Lumia 620 is equipped with 3G support with HSPA at 21.1Mbps, dual-band Wi-Fi connection, Bluetooth 3.0, and GPS navigation. This factory-set model comes with an Internet Explorer 10 browser that is run as a fairly solid browser. Internet Surfing, loading most pages, zoom in and zoom out and double-tap sun and this model worked great. However, it may seem a little strange to users of this model that the space for typing a web address at the bottom and not the top of the display as we are used to, and the lack of forwarding options gave us a sense of lack of choice does not provide.
Camera
An overview of the Nokia Lumia 620 would not be complete without addressing a very important part of every phone, the camera. The camera equipped with the Lumia 620 has 5MP with autofocus and LED flash, which records 720p HD videos. This codec also has an auxiliary VGA camera for video calls, which is located above the display on the front. When the price of this model is taken into account, no miracles can be expected from its 5MP camera, and while the images made with this model lack a wealth of details, the Lumia 620 boasts images with excellent saturation and natural colors. The camera interface is enriched with numerous lens effects (such as Cinemagraph,) ISO settings, various scenes, etc. The videos with this model proved to be extremely high quality for this class of camera.
Sound during a call and battery
With this model, the high sound quality of the interlocutor is especially emphasized. This model has the cancellation of external noise and noise, which enables pleasant and clear conversation. The interlocutors said that the tone of the voice was easily recognizable during the conversation, while the microphone made loud and clear sounds. The battery of the Lumia 620 model has a capacity of 1300mAh. It is a Li-Ion battery that lasts up to 2 days on average with a single charge. These figures fit into the broader picture of today's mobile capabilities.
Conclusion
We end our review of the Nokia Lumia 620 with a brief summary of our experiences with this phone. The Nokia Lumia 620 is a mid-range phone and the efforts of this Finnish company are evident. The Lumia 620 boasts an exemplary design, which will appeal to many (but primarily the younger population), a very good (but not great) camera that supports 720p HD videos, and the latest Windows Phone 8 operating system. We generally have no particular objections to this model and that speaks volumes in Nokia's success with this model, but the Lumia 620 will have to face very stiff competition in its class. There's HTC's Windows Phone 8S , in Android's ranks there's the Galaxy S3 Mini , or HTC One V. It is an inevitable fact and much wider support for applications when it comes to Android devices. The Lumia 620 is a good choice, but the final verdict will, as always, be made by the market. What do you think about this model?