The LG G Pro Lite is an affordable dual SIM device, which comes as a successor to the original LG Optimus Pro G. With this model, LG wanted to fill the gap it had in the category of medium-expensive models, but also to show that consumers can count on phones with big screens, just like LG has. That is why the display, combined with the price, will decide the fate of this phablet.
The LG G Pro Lite has a lot to offer. It is a device with a huge screen, great features, and good sound quality, but also a device with average performance and a camera with a somewhat unexpected failure.
LG G Pro Lite design
This large phone looks almost identical to the original model from the front. The case is made of glittering plastic, while the side edges are covered with a thin layer of chrome. The LG G Pro Lite has a nice texture on the back, which sets it apart from the competition, especially from Samsung's models.
However, the surface attracts fingerprints and other dirt and it takes a little time for the user to get used to it.
The LG G Pro Lite has dimensions of 150.2 x 76.9 x 9.4 mm, which makes it quite difficult to handle, but also quite impractical to fit in a standard trouser pocket. On the other hand, it is to be commended that the capacitive keys respond nicely to touch and provide true enjoyment during use.
LG G Pro Lite screen
The IPS LCD 5.5-inch screen is definitely the main trump card of this giant. However, its poor resolution of 540 × 960 pixels can be a problem. If this was a smaller screen, the lack of quality might not be seen, but when you only have 200 pixels per inch at 5.5 inches, things are different.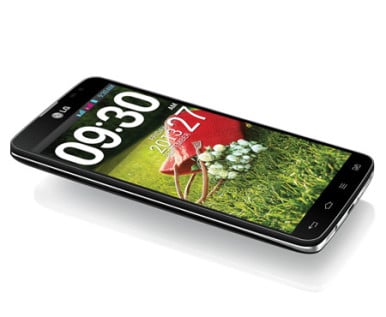 However, it is surprising that the screen displays good colors. For example, when you look at the photos you take, the image is very good. A big plus is the viewing angles, so you can invite friends to watch some interesting videos together.
LG G Pro Lite interface
LG's phablet runs on the 4.1.2 (Jelly Bean) Android operating system, which means that LG is a little late with the adoption of fresh software here. At the same time, the G Pro Lite is equipped with Optimus 3.0 UI, which means a lot of customization and personalization available. In addition, the LG G Pro Lite has some additional features, such as Guest mode, Smart Share, and KnockON, and a quiet mode for peaceful sleep without unnecessary alerts and tones.
LG G Pro Lite camera
The main camera has 8MP, while the secondary has a 1.3 MP sensor. This means you will be able to take pictures at a resolution of 3264 × 2448 pixels and make HD video in 720p quality. The camera is equipped with standard modes, but not very necessary for HGR and macro modes.
The photos have enough detail, but the choice of colors can be better. LED flash is a very useful option, but since it is very strong, you should be aware that photos were taken nearby or in not-so-dark conditions will not be as good as you hope.
LG G Pro Lite Conclusion
Everyday activities, such as searching, typing text, listening to music, and watching videos, the LG G Pro Lite will work smoothly. It's a completely different story when it comes to playing games, so we can safely say that this is not a gaming phone, which is a disappointment considering the big screen. The 3140mAh battery is enough for one day of normal use.
All the default connections are there (with an IR port that allows you to transform the phone into a remote control), with the exception of NFC, HDMI, and 4G connections, but I don't think that's crucial for the overall rating of this phablet. Of course, don't lose sight of the fact that this is a dual SIM phone and that it offers the convenience of using two cards, with a special button intended for this option.