Reason for comparison
As I recently purchased both of these drives and have them in the same PC I decided to do some comparison to see which one was a better purchase. I compared them based on labeled specs and actual performance. I have Windows 10 OS running on Biostar 120GB SSD so tested devices are only used as storage, not as boot drives.
Since prices, in reality, are not the same everywhere, I assumed that they are equally priced, ie. that they belong to the same price range.
Labeled specs
To show you how these devices are labeled on the market I took photos of their packaging as I bought them (Kingston was installed into PC before I took photos). These are information I read on the packages:
Silicon Power 2.5″ Slim S55:
240GB
SATA III 6Gbps
Read: 550MB/s
Write: 450MB/s
15x faster than 5400RPM HDD
Kingston 2.5″ A400:
240GB
SATA III 6Gbps
Read: 500MB/s – from the Kingston website, not on the package
Write: 450MB/s – from the Kingston website, not on the package
10x faster than 7200RPM HDD
*each of these I bought in January of 2019*
Performance
To measure the performance of these devices I used a testing tool AS SSD Benchmark 2.0.6821.41776. This is the summary of results.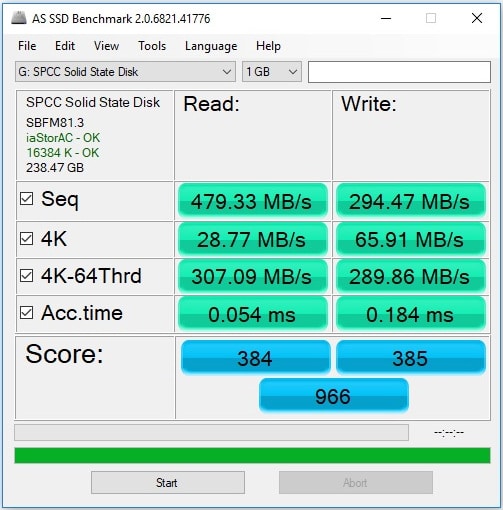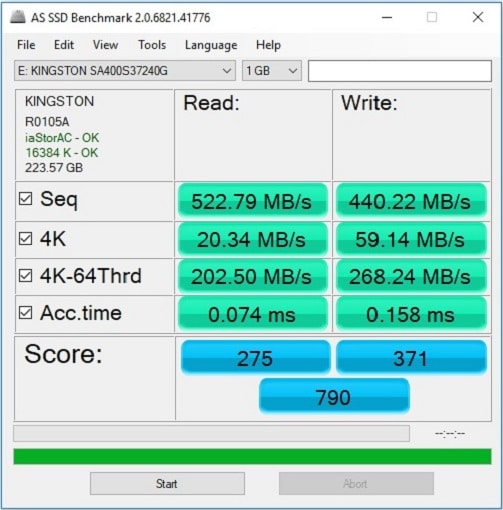 What you can see in these results is that Silicon Power got better final scores for write, read and overall. For the sequential read and write Kingston A400 was much faster but for 4K-64Thrd it was much slower. I also ran the same tests for boot system SSD and storage HDD that are on the same PC. This Biostar S150 was the most popular 2.5″ SSD that was on the market in Serbia as a new device when I bought it in December of 2018. I included HDD in this comparison to show you how much advantage SSDs have over HDD.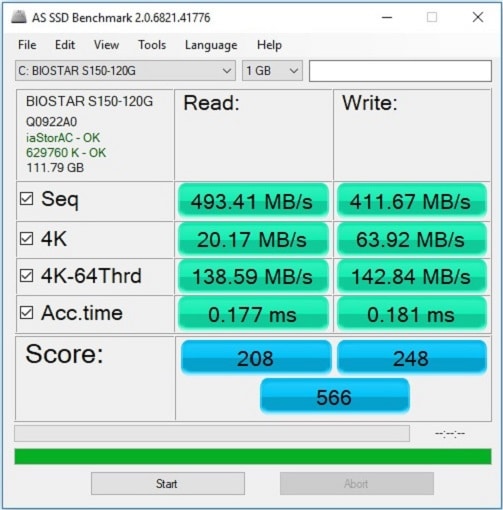 We can see that for sequential read and write Silicon Power falls behind boot drive but in all other scores did better. HDD testing took around 2 hours while each SSD about 4 minutes.
I also ran a test using a tool from userbenchmark.com website. This is the full score report:
UserBenchmarks: Game 71%, Desk 82%, Work 56%
CPU: Intel Core i5-8400 – 94.5%
GPU: Nvidia GTX 1060-6GB – 71.9%
SSD: Biostar S150-120G 120GB – 45.1%
SSD: Kingston A400 240GB – 93.3%
HDD: WD WD25 00JS-58NCB1 250GB – 26.2%
HDD: Spcc Solid State Disk 256GB – 215.1%
RAM: Transcend JM2400HLB-8G 1x8GB – 45.2%
MBD: Biostar H310MHD PRO
Silicon Power S55 SSD was detected as HDD and score of 215.1% was, probably, for comparison with other HDDs.
To see the full test results go to https://www.userbenchmark.com/UserRun/15774044
An interesting thing about testing SSDs on userbenchmark is that results can vary drastically from test to test. On the test of my Kingston A400 SSD, I got a score or 93.3% and that is among best ever tested for this device as shown on the graph. For Silicon Power SSD this graph was not shown.
Summary
Overall, both of these SSDs work very well and, in my opinion, are great value for the cost, maybe even the best value of all electronics for PCs. It is very hard to answer for sure which one was better to purchase for me but, at least, I can give you these insights on how they perform so you can decide for yourself based on your criteria.
SSD, in general, would not bottleneck your system. Even if you get the cheapest on the market, as I did, it should work just as fine as some of the high end (like Samsung Evo).
As an amazon associate I earn from qualifying purchases.