HTC has been acting a bit weird lately. This manufacturer tried to produce higher-class phones. According to earlier announcements by the company's leaders, HTC has distanced itself from the middle and lower class models.
However, it turned out that it was not so easy. An example of this is the Desire 610, a mid-range model with an LTE connection and a price that is far below what the HTC One M8 is asking for in order to become your property. It is the successor to the Desire 601 model, which comes with good build quality and a large enough 4.7-inch screen.
HTC Desire 610 design
The phone is available in several colors (white, red, and dark blue). The plastic from which the phone is made, has two shades. The back is covered with a shiny surface, which seems resistant to minor scratches, but in my opinion, it attracts fingerprints too much.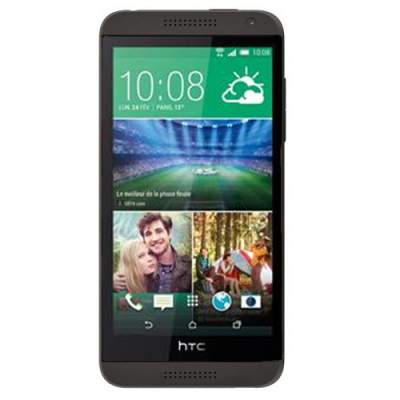 The front and sides are with a matte finish, which is not bad because the designers wanted to create a better visual impression by creating contrast in the surfaces. Unlike the background, this plastic is a shade "rougher", so it prevents the phone from slipping out of your hand. So, with this design trick, HTC managed to kill two flies. Practicality and aesthetics are satisfied, but still, the plastic is at a solid, but not the top level of quality.
However, that is not the biggest problem here, but its dimensions. With 153.1 x 70.5 x 9.6mm, the Desire 610 is not exactly a champion of slimness and harmony. Also, we are used to meeting phones in the super light category, but this one with 143g does not belong there, but far from having muscle inflammation. The reason for the slightly heavier weight should be sought in the larger screen, but also in the slightly larger areas around the screen and stereo speakers.
Despite the slightly thicker look, HTC did not fail to soften the corners of the edges of the phone, so the Desire 610 is easy to hold in your hand. The phone doesn't even look like the metal case that adorns the One M8, but the build quality is out of the question. The Desire 610 has a slightly rough look, but some will like it.
HTC Desire 610 screen
An average of 540×960 pixels has found its place on this 4.7-inch screen. At a time when a good portion of the competition is introducing HD screens into this segment, HTC should have put more effort. The pixel density of 236 is not bad. More precisely, it is somewhere at the average level.
Fortunately, the picture is not bad because of that. The colors are pleasant and natural. The viewing angles are good. The lighting is a bit worse, so for normal viewing on a sunny day, it is necessary to set the lighting to the maximum, and then there is no problem.
HTC Desire 610 specification and performance
The well-known Qualcomm Snapdragon 400 at 1.2GHz is the driving force of this HTC. It comes combined with 1GB of RAM. The phone is fast enough for all the usual activities. Navigating through windows, screens, and menus is fast and without downtime.
Same thing with apps. So, if you are not a keen player of 3D games, Desire 610 is quite a good device. This does not mean that more demanding video games do not work on it, just that it will not work in the way that is the case with more powerful (and more expensive) models.
When you insert the nano SIM card into the slot (which can be a bit complicated) Desire 610 will give you fast internet access via 4G network. As we do not have this technology yet, it is certain that you will have to settle for 3G and Wi-Fi internet.
HTC has committed only 8GB of internal memory, but also microSD expansion to a maximum and enormous 128GB. I think it's a distortion of real needs. In my opinion, it is better than HTC put 16 or 32GB and a microSD port if it wants. Realistically, only fanatics will go so far as to fill 128GB of data.
However, it seems that you will have to buy a memory card because this 8 GB are not enough to store music and similar files. Admittedly, you don't have to take the largest card, but one according to your needs.
I already mentioned the speakers. HTC with its BoomSound speakers sets the standard when it comes to phones. The One M8 definitely has the best sound right now, but the Desire 610 isn't bad either. Ok, the sound is not at the mentioned level, but it is still very good.
The phone uses a 2.040mAh battery, which is, in essence, average. That means an average of one day of relaxed use.
HTC Desire 610 runs on the new 4.4.2 KitKat Android OS with Sense 6.0 user interface. So it couldn't be newer. The interface is easy to use and brings some useful options, which can be especially useful for parents (Kid Mode and Parental Control). Of course, there is also BlinkFeed, which brings all the content relevant to you in one place.
HTC Desire 610 camera
An 8MP camera is standard for this type of phone. However, no camera of this many megapixels is the same. Specifically, this one is not bad. In sunny weather, when the conditions are ideal for photography, photos are quite good.
The colors are close to the originals, there are enough details, but the edges are a bit dirty. In essence, the photos that the Desire 610 makes vary, from some very good to those that we usually say is typical of mobile phones (in a bad way), and which are characterized by noise, little detail, washes, and the like.
The camera offers the option of full HD recording with a lot of success. The 1.2 MP front camera is also not something one can complain about. If you are a fan of selfies or video calls, you will not have any major problems with it.
HTC Desire 610 conclusion
The HTC Desire 610 is quite a solid phone. Maybe this model doesn't have a part that is spectacular, but everything is in its place and everything works properly. The phone is priced in some middle segment, which roughly corresponds to its characteristics. This is a phone with a large screen (and a slightly lower resolution), attractive and unusual design.
However, the competition here is quite strong. There are plenty of models that are either identical or better than this and are more competitively priced. If the HTC Desire 610 hasn't won your heart or is too much of a burden on your budget, think a bit about models like the Moto G and Xperia M2.