Fortnite Battle Royale is featured on mircic91 Twitch and YouTube channels. You can use creator code: mircic91 to show your support.
Support-a-Creator code: mircic91
Epic Games have approved mircic91 Support-a-Creator code in the item shop. By using this code in the item shop you help mircic91, as some percentage of v-bucks that you win or spend in the game are converted into real money and sent to mircic91. This does not add any cost to items in the game's shop. It is just a free way of supporting a creator. Thank you!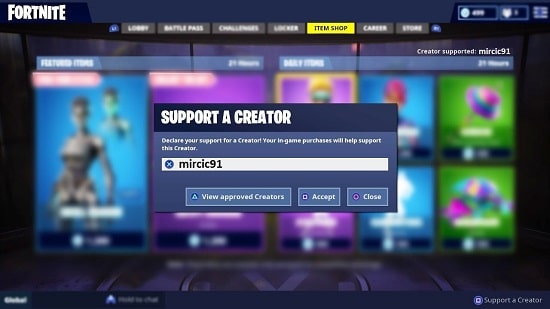 Fortnite live streams on mircic91 Youtube channel
Here is an example live stream from many I did on my Youtube channel.
mircic91 Creative mode island builds
In Fortnite Creative mode I made a few creations. You can visit them by inserting island codes in your Creative mode or by using these links: 
One-Shot sniper: https://epicgames.com/fn/0139-8400-7327
Th 12: https://epicgames.com/fn/1432-3462-2956