The Alcatel One Touch Hero is introduced as the latest Alcatel phablet (a term derived from phone + tablet) with a pen that has a clever strategic goal to win over users of abundant devices who can't afford Samsung's high-end (but also price-ranging) Galaxy Note 3.
The information provided by people who have a small opportunity to try this model is a very pleasant surprise how much attention is paid to the quality of the Hero model. The thin bezels around the display, the quality materials used in the production of the Hero continue but also far surpass Alcatel's latest successful series of smartphones.
The Alcatel One Touch Hero is presented with an intriguing range of accessories. One of them is two magnets placed on the side of the device that allows the addition of flip covers. The cover is easily mounted with the help of a row of "Pogo" needles and, thanks to the magnets, they are kept in place so that they do not "flutter" and are more stable than most covers.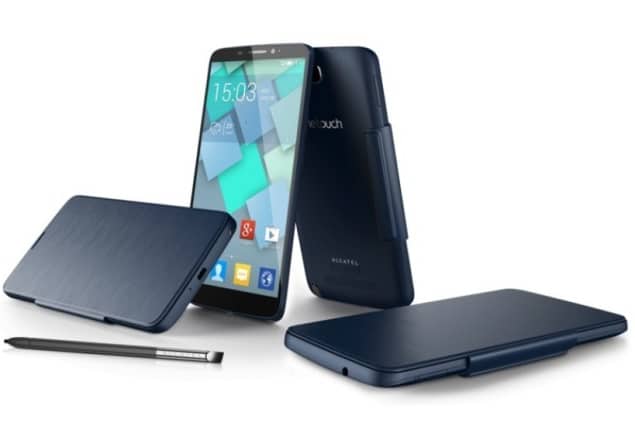 For example, in the article on the GSM arena page, a phablet cover called LED MagicFlip is shown, which shows notifications using hidden lights on the cover face.
More advanced versions of the lid have a large e-ink display (let's call it electronic paper). Another addition is the Docking Station with a Pico projector (for now, the e-ink covers and the Docking station are presented as prototypes).
Impressive equipment aside, the Alcatel One Touch Hero is presented with technical features that place it in a high-end device! If we consider the 6-inch IPS LCD display with 1080p resolution, MediaTek chipset with Quad-Core Cortex – A7 processor of 1.5GHz, 2GB of RAM, 13MP main camera with 1080p recording, and Li-ion 3400 mAh battery, it is clear that it is a rather powerful device.
Alcatel One Touch Hero is 6 comes in versions with one or two (dual sim) cards, and as with the Alcatel Idol X model which was Alcatel's "first set" device, the dual sim version does not have the ability to expand the memory with a memory card.
Alcatel has spiced up the Android 4.2 Jelly Bean version with some improvements such as split-screen multitasking, several applications for use with the Stylus pen, cloud applications. When it comes to the pen itself, it should be mentioned that this model is equipped with a capacitive stylus pen so it is not as sensitive as the Samsung S Pen (without the option of recognizing the air command or detecting the pressure force).